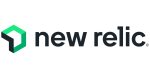 New Relic – SendQuick Cloud Integration Guide
Version 1.1
1.1 About SendQuick Pte Ltd
SendQuick™ develops and offers enterprise mobile messaging solutions to facilitate and improve business workflow and communication, and is widely used in areas such as IT alerts & notifications, secure remote access via 2-Factor Authentication, emergency & broadcast messaging, business process automation and system availability monitoring.
In addition to functionality, SendQuick's messaging solutions have also been developed with other key features in mind. These include security and confidentiality of company information, and ease in mitigating disruption during unplanned system downtime such as that arising from cyberattacks.
1.2 About sendQuick Cloud
SendQuick Cloud is a cloud based Software-as-a-Service (Saas) application to monitor and notify for cloud based incidents with omni-channel messaging capability. It has ability to monitor using ICMP Ping, Port check and URL check. It has policy based notifications using Email and Webhook, supporting any applications as well as Cloud Providers like AWS, Azure, Alibaba Cloud, Google Cloud and Oracle. Given the above integration methods, SendQuick Cloud is able to work with any applications to send notifications. Supporting notification channels include SMS, Telegram, Slack, Facebook Messenger and others. Lastly, there is Roster for messaging based on duties and time frame for each recipients, reducing alert fatigue.
1.3 Purpose of Document
This document is a guide on how to register for the supported chat apps and collaboration tools to receive alert messages from the triggered rules configured or broadcast in SendQuick Cloud.
SendQuick Cloud is designed to complement the systems, virtual instances, devOps and other applications on the cloud for sending message notifications when an event happen. This will ensure your services uptime for your cloud services.
2.1  Email Filters in SendQuick Cloud
SendQuick Cloud can receive any emails (SMTP) from any applications, apply the configured filters (policies) and if the condition matches, messages will be sent to the recipients. When starting to configure, create an account in SendQuick Cloud and go to Email Filter (left Menu) and Create New Mail Filter Rule. You will be presented with the interface as shown below.
You will notice the Email Address TO as the first Policy item. The email address is pre-assigned by SendQuick Cloud and will follow the name of your account name. This email address cannot be changed and will be used to configure in New Relic as explained in section 3.1.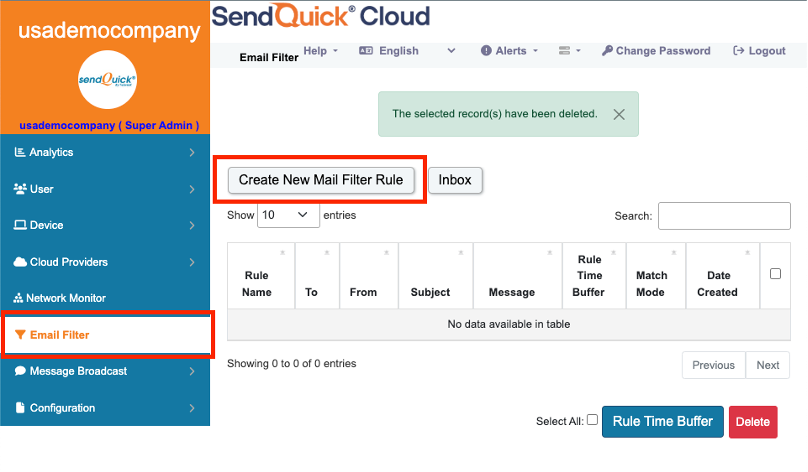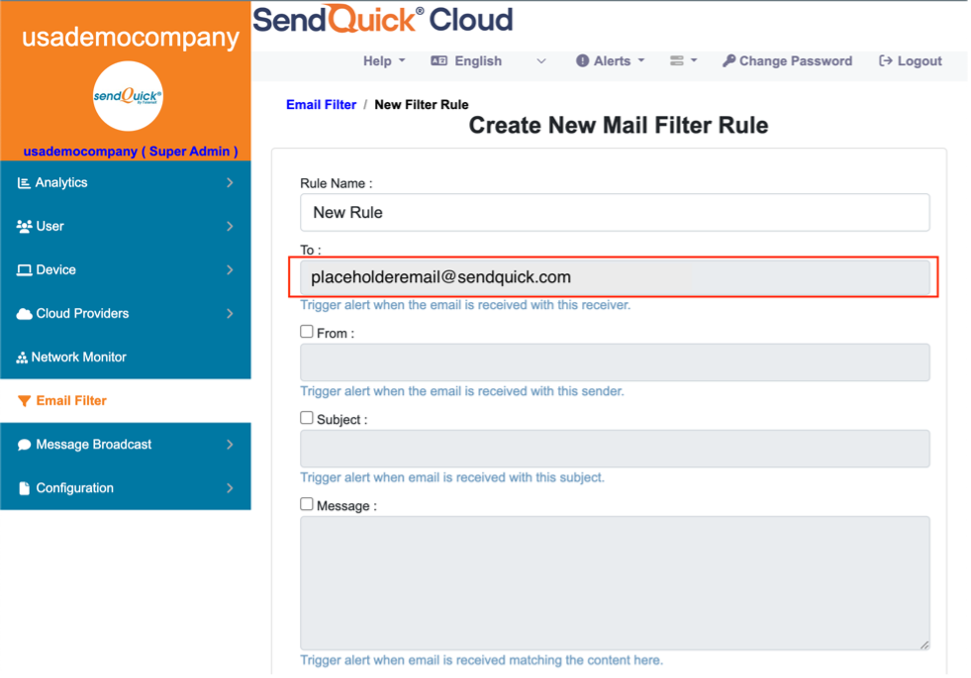 Check the checkbox of policy item FROM, and key in the email address 'alert@dtdg.co'. Ensure that the check box ALL is selected under the MATCH MODE policy item.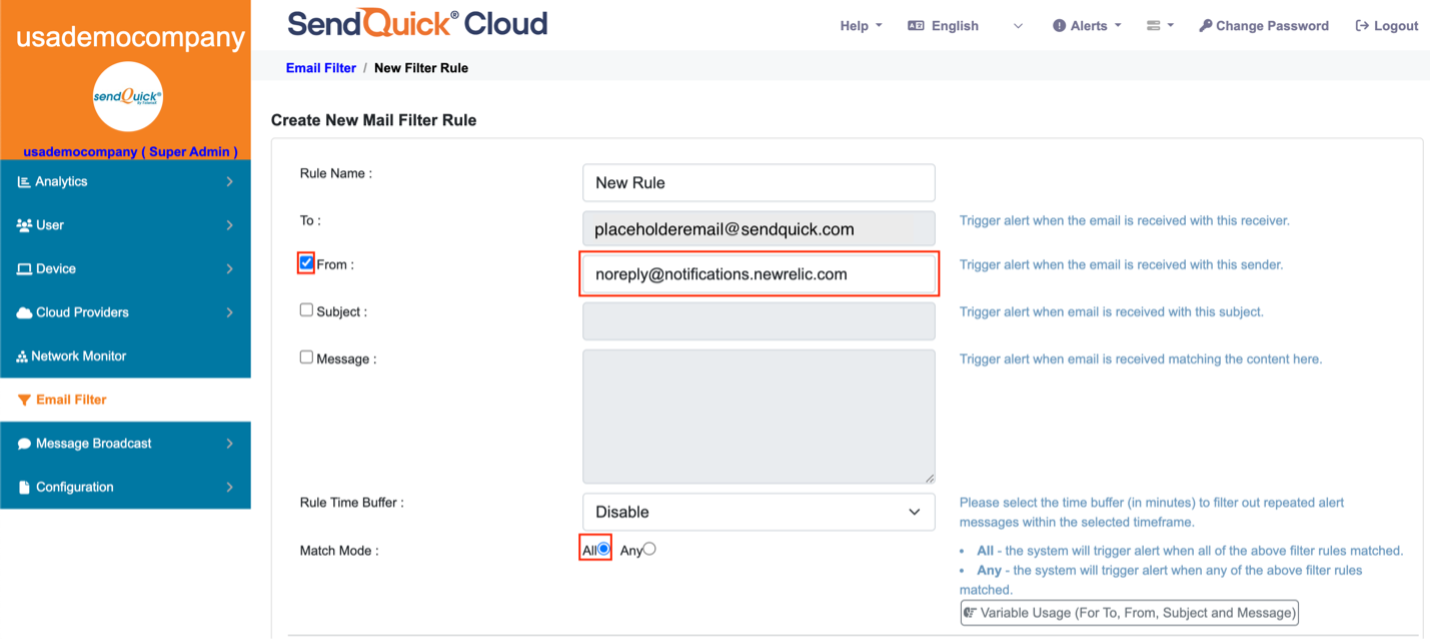 These settings are configured such that when an email is sent from 'noreply@notifications.newrelic.com' (New Relic) to placeholderemail@sendquick.com (SendQuick Cloud), an SMS containing the contents of the email will be sent out to the allocated recipients.
When any event happens or there is a need to send a notification alert, New Relic can trigger an email to SendQuick Cloud. SendQuick Cloud will then convert the email message to alerts and send to mobile phone based on the policy (filter) rules assigned. The email messages are sent from New Relic to SendQuick Cloud for processing.
3.1  Configure Email Alert Rules
In the New Relic's navigation bar, select Alerts & AI. Under Enrich & Notify select Workflows. Within Workflows, Select Create your first workflow.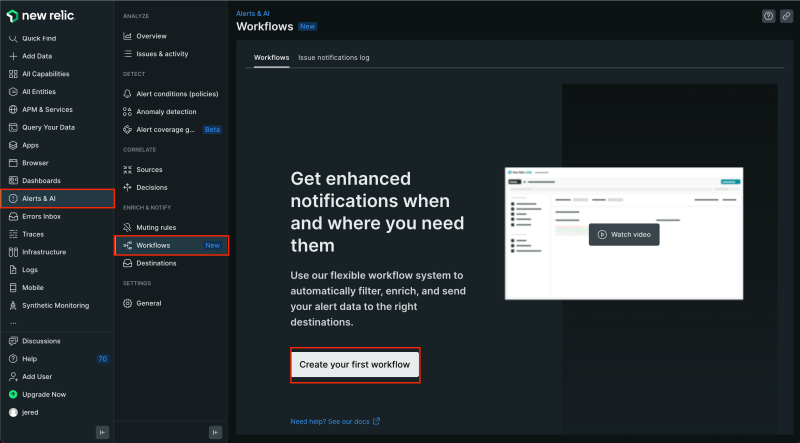 First, we will configure the alert rules. Fill in the desire name for the alert under Configure your workflow. Following which, choose the desired filters for the alert under Filter data.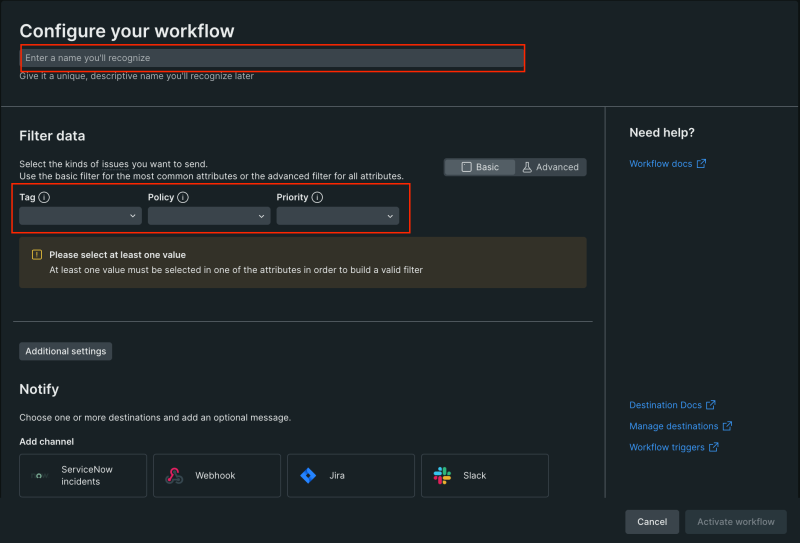 3.2 Configure Email Alert Contact for SendQuick Cloud in New Relic
Next, we will configure the email recipient to be SendQuick Cloud. Within the workflow page, under notify, select Email.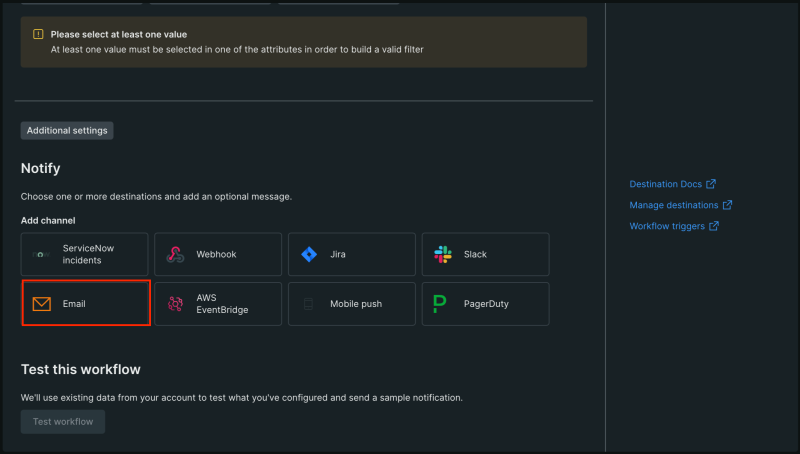 Within the email page, type in the email address pre-assigned by SendQuick Cloud in the highlighted box. Select Save.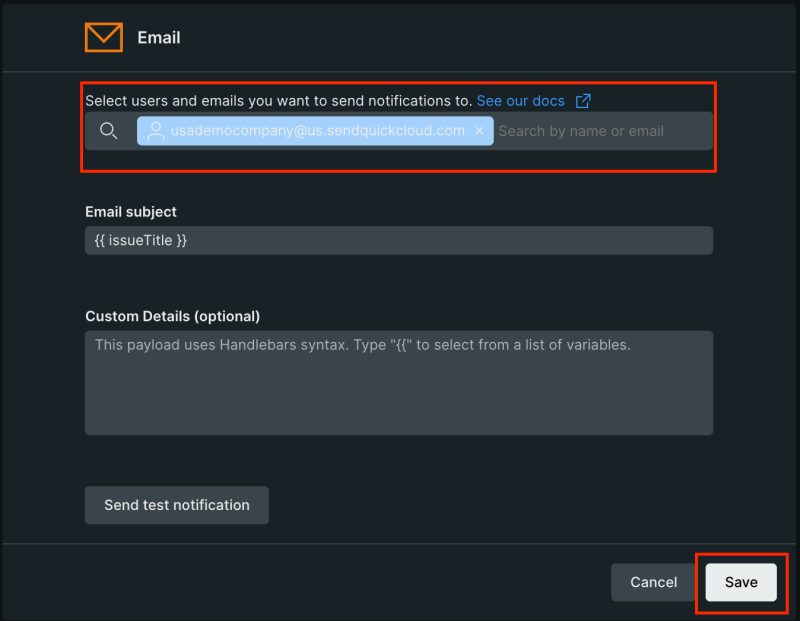 Select Activate workflow.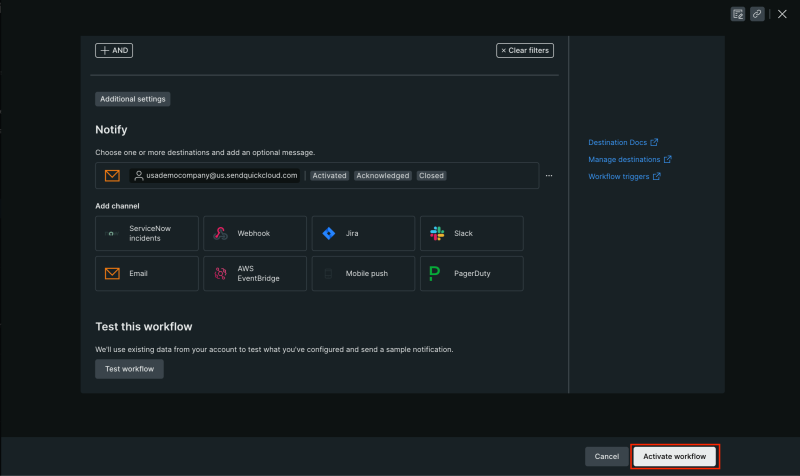 The workflow has been created.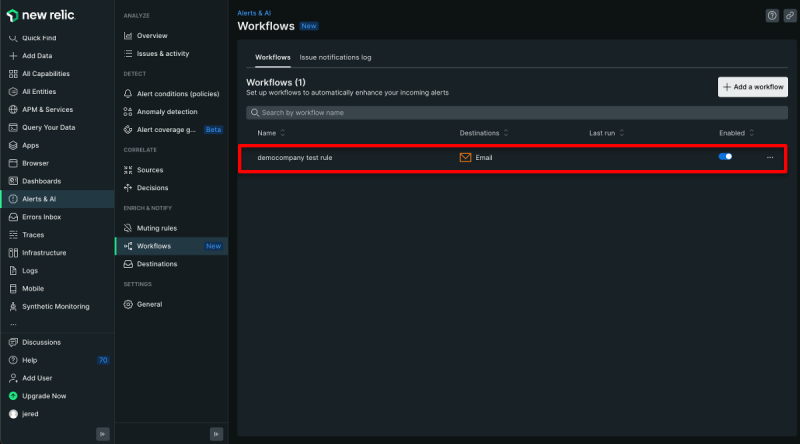 You can create more rules, as desired and use Email to send the notifications to SendQuick Cloud.
Upon completion, you can start using SendQuick Cloud and configure all the filter/policies and user roster to receive the alerts on their phones. For more SendQuick Cloud configuration, refer to SendQuick Cloud User Manual or Video Tutorial.