sendQuick Cloud (sendQuick) is designed to complement the systems, virtual instances, devOps and other applications on the cloud for sending message notifications when an event happen. This will your services uptime for your cloud services.
2.1
 

Email Filters in sendQuick Cloud

sendQuick can receive any emails (SMTP) from any applications, apply the configured filters (policies) and if the condition matches, messages will be sent to the recipients. When starting to configure, create an account in sendQuick and go to Email Filter (left Menu) and Create New Mail Filter Rule. You will be presented with the interface as shown below.

You will notice the Email Address TO as the first Policy item. The email address is pre-assigned by sendQuick and will follow the name of your account name. This email address cannot be changed and will be used to configure in Google Cloud Platform Monitor as explained in section 3.1.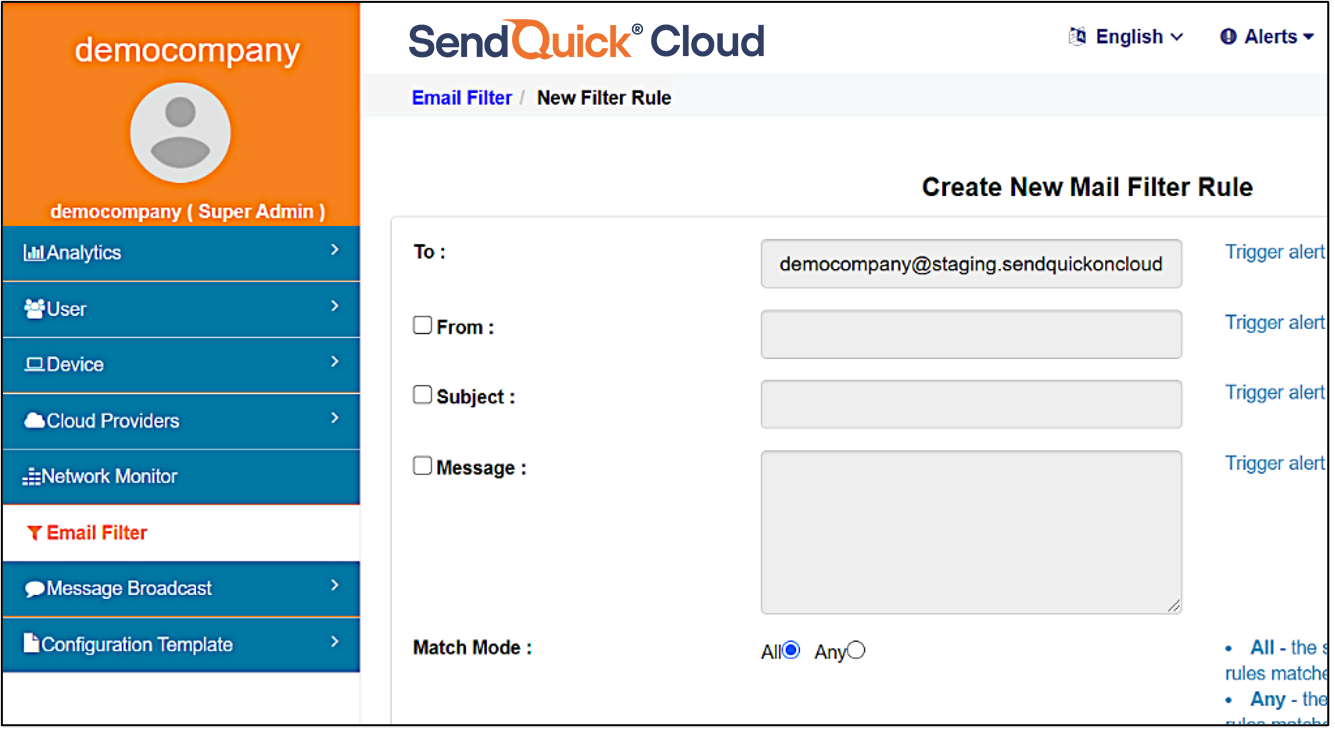 Email Address TO, sending to sendQuick Cloud
2.2 Cloud Provider in sendQuick Cloud using Webhook
The second method to integrate between GCP and sendQuick is using Webhook method. This is via an Application Programming Interface (API) where the event information is sent to sendQuick an sendQuick will process and check against the pre-configured policies (conditions). If the conditions are met, it will trigger an alert to the assigned users.
In summary, the flow is as below:
The webhook to send to sendQuick is found on the Service Configuration for Cloud Provider in sendQuick. This is depicted in interface below.

Chose the Cloud Provider as shown on the left Menu in the diagram above.
Copy the Integration URL as shown on the top of the Integration page. This is the URL to be configured in GCP as shown in section 4.0.