When any event happens or there is a need to send a notification alert, AWS Cloudwatch can trigger an email to sendQuick Cloud (sendQuick). sendQuick will then convert the email message to alerts and send to mobile phone based on the policy (filter) rules assigned. The email messages are sent from AWS Cloudwatch via SNS Subscription to sendQuick for processing based on the rules configured in Cloudwatch.
In AWS, it is required to configure the notification method using SNS first, creating new Subscriptions and Topics in SNS. Once this is created, the Topic can be used in the Cloudwatch > Notifications configuration that we will explain later.
3.1
 

Configure Email Delivery on AWS SNS

On the dashboard of AWS SNS, choose Topics and Create Topic. This is shown in the Figure below.

AWS SNS Dashboard
Create Topic
Insert a Topic Name and Display Name and then Create Topic. The new topic will be created as shown below.
Then select the Topic and then Create Subscription. The Topic ARN is automatically assigned and you will need to choose a Protocol for this subscription. There is a dropdown list to choose. We will document two methods in this document: Email and HTTPS. First, choose Email as shown below.
Then, Enter the End Point, which is the email address (destination email address in sendQuick) which was shown in section 2.1 above. Once you have entered the email address, select Create Subscription. The subscription is created and requires confirmation.
Under Menu > Subscriptions, select the desired subscription (radio button) and select Request Confirmation. A confirmation email will be sent to the configured email.
The next two Figures illustrates the steps required.
sendQuick Cloud has an Inbox to receive the confirmation email from AWS. This allow for easy email confirmation. Login to sendQuick Cloud account, go to Email Filter and look for Inbox, as shown in the Figures below.
Enter End Point and Create Subscription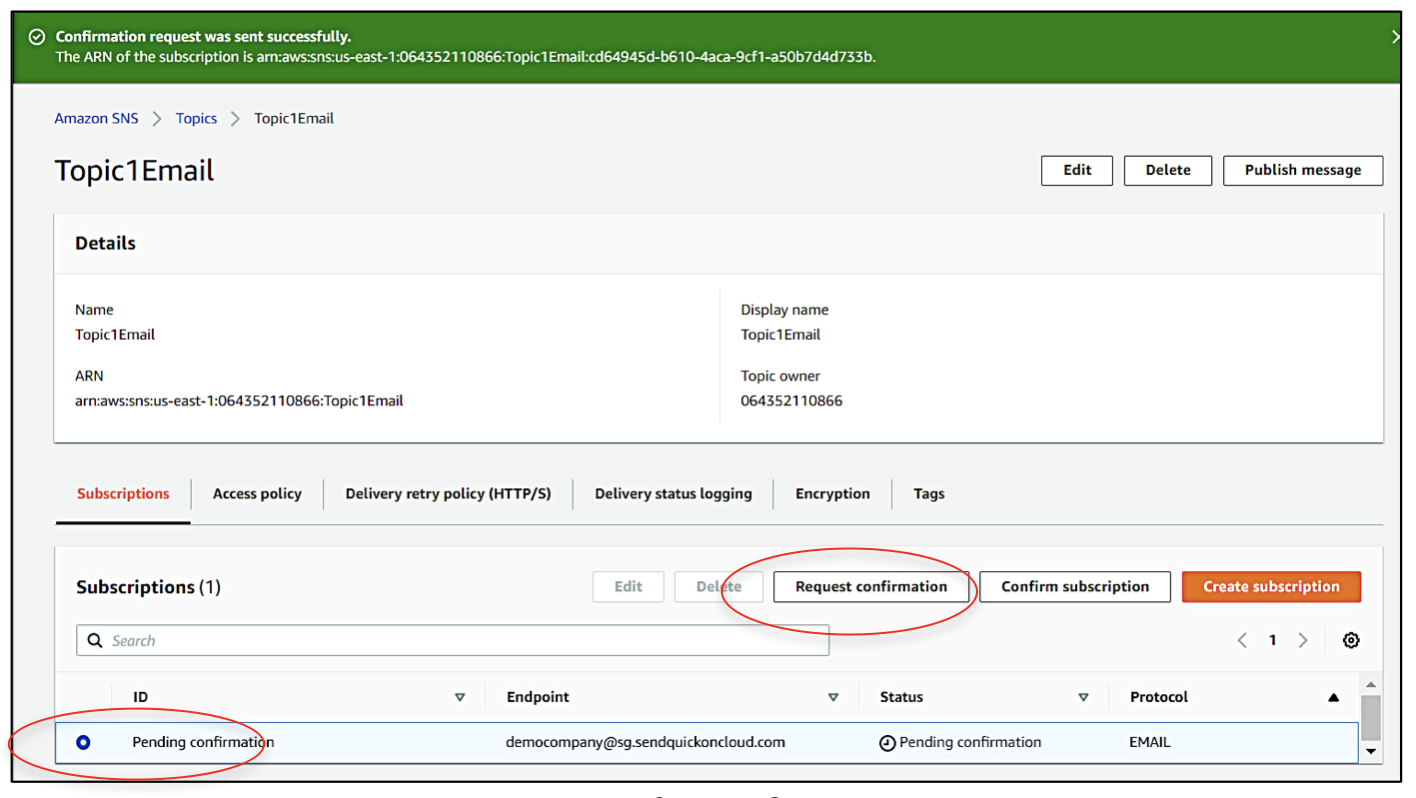 Request for Confirmation
Select the AWS email as shown above and you will be able to view the email details below. Click on the Confirm Subscription and the confirmation page will show as seen below.
Once the confirmation is completed, the SNS subscription is ready to use.
3.2
 

Configure Webhook on AWS SNS

Another method to send notifications from SNS is using the Webhook method. The steps to configure in SNS is the same as described in Section 3.1. When choosing the protocol, select HTTP or HTTPS as below. You should choose HTTPS.
After selecting the protocol, enter the URL from sendQuick (as shown below) and Create Subscription. The URL is the same URL from Section 2.2, Integration URL.
Once the information is Saved, a confirmation request is sent from AWS to sendQuick to confirm the URL Webhook. Go to Subscription and you will see the webhook is confirmed.
Once this step is completed, the Subscriptions and Topics are available in Cloudwatch for configuration.